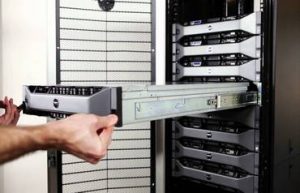 In any IT infrastructure, servers are equipment that require professional configuration and administration, carried out by competent specialists. Without efficient and proactive server administration, the smooth running of your business can suffer, even reaching its temporary blocking.
Servers require constant attention from server administrators. The servers managed by us are monitored 24/7 and thus we quickly notice if hardware problems or software problems appear on any of the servers managed by us.
A well-configured and secure server can make a major difference in performance and productivity, directly influencing the work of your employees and your business. We help you to have well configured, secure and stable servers. We have vast experience both in Microsoft Windows Server  and in Linux Server ( Red Hat Enterprise Linux, AlmaLinux, Centos, Debian - Recommended operating systems for the server).
Servers are the basis of commercial activity for the business market. Whether you have an old server, or you don't have a server, you ask yourself the question: How to buy one? Or which server do I need?
Buying the server is an important decision for most business people because they will use the server for 3-6 years; therefore, we do not recommend that you make this decision yourself.
After a short discussion with you, we can recommend the server you need and we can ask for price quotes from several IT providers. You will only have to make the final decision
Once we have implemented the server, the next challenge is to create a monthly maintenance plan (security, update, backup) which is essential to work efficiently. This monthly maintenance also includes server monitoring, with the help of which we can make sure that the server is running at normal parameters and that we are automatically notified of any change in performance or problem.
Whether you have a File server, Print Server, FTP Server, Exchange Server, DNS Server, Terminal Server, SMTP Server (email), Backup Server, Database Server, Monitoring Server, Virtual Server, etc. that needs to be managed or you want such a server to be installed for you, you can contact us with confidence.